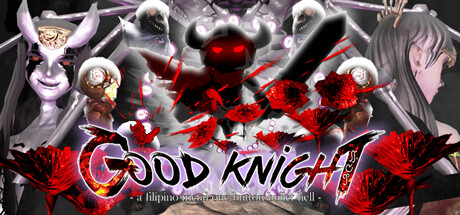 Good Knight - One-Button Puzzle Bullet-Hell
Community Facebook | Twitter | Youtube | Music | Discord
"Prepare to DIE IN METAL HELL!"
We fused shooter, rhythm, arcade, retro, and more in this Dante's inferno meets Philippine Horror bullet-hell.

How to play and please be advised.

Players have felt some intense
#BUTTCLENCHING SENSATION
while playing this game. Enjoy. <3
Slay hell in this Philippine horrors, history and literature fuse with Greek stories like Dante's Inferno story.

Good-Knight is a Butt-clenching Arcade Metal Game influenced by games like Super-Hexagon, Castlevania and Touhou.
It's almost genre-less as it fuses genres like Shooters Rhythm Puzzle Bullet-Hell.